Make
in SPU's Future

The Katos: Making it count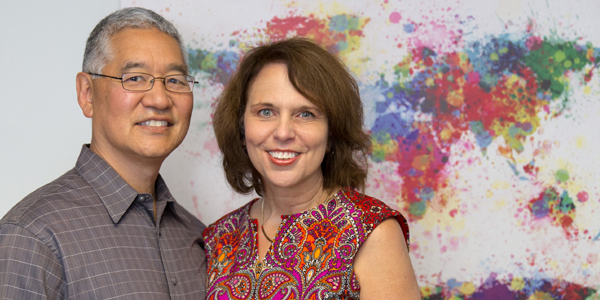 When in 2015 they established the Sharleen and Dean Kato Family Global Service Learning Scholarship Endowment, the Katos felt it was time to be a part of the donor legacy that embraces students with scholarships at a time in their lives when perhaps the need for financial aid is greatest.

Graduates of Seattle Pacific are seeded throughout the Kato family, including not only Sharleen herself (1984), but a number of aunts, uncles, and nephews; son Alexander (2011) and his wife, Annie Haight Kato (2010); daughter Stefanie (2014); and even the four newest members of Sharleen's home Bible study, all SPU graduates, who feel like family but aren't related at all. Most of these individuals received donated scholarship assistance to help them realize their educational goals.

Sharleen says the endowment is a result of "wanting to see Seattle Pacific and its Christ-centered education count for generations to come."

Making SPU a giving priority is nothing new to Dean and Sharleen. Founding members of the Seattle Pacific Parent Council, they are longtime donors at the President's Circle level and committed members of the Wellspring Society.

In 2010, they created a Study Abroad trip to The Philippines, where each December SPU students serve orphaned children and families living in poverty, and learn how community development is done in real time. The Kato Family Endowment gives priority to Family and Consumer Sciences students with demonstrated financial need. Not only that, the Katos go to The Philippines with them.

"We go as learners, not as saviors," says Dean. "The work encompasses several hundred Filipino youth. We work alongside and ask how can we help?" Students also receive five credits toward their degree requirements.

The Katos know firsthand the added value of travel abroad. They were recently in Russia and Asia. They will return to The Philippines in December, and early in the new year, Dean will help lead a Free Methodist trip to the Holy Land. A friendly rivalry exists between Dean and Sharleen to see which one can visit the most countries. Sharleen is at about 40 and Dean at about 45, the great majority of those shared.

The travel bug is easily caught by others in the family line. At eight months of age, grandson Jack had already been to eight countries.

Sharleen says that her travel impressions are many. "The impact of coming up a hill to see Jerusalem in all its glory, the place where Jesus will return. The topographical ruggedness of Petra, Jordan, and a ministry to Syrian refugees. Circling the world on a trip to the United Arab Emirates that took us from Seattle to Dubai to Osaka – each so different, yet so alike. Japan and Norway, taken together, a portrait of our marriage."

The Kato marriage is 30 years strong. Their lives together and all that has resulted began at SPU when she was Sharleen Gay.

In 32 years on the SPU faculty, Sharleen has taught undergraduate students in Family and Consumer Sciences, and was department director for 13 of those years. She holds a bachelor's degree in home economics from SPU, a master's degree in human ecology from Michigan State University, and a doctorate in educational leadership from Seattle University. Her community and professional involvement includes serving on a number of educational boards.

Dean has a degree in industrial engineering from the University of Washington and has enjoyed more than 30 years in leadership management roles for the aerospace industry, including at Esterline Control Systems where he was vice president of sales. He established an internship program for SPU engineering students at Esterline and has served more than 20 years on the Seattle Pacific Engineering Advisory Board.

"At Esterline, we would hire SPU graduates almost sight unseen," says Dean, who now is a principal with OneAccord, a professional partnership helping small businesses grow. "The SPU graduates consistently did exceptionally well. That speaks not only to the quality of a great technical education but to just how far the SPU faculty and staff are personally invested in the students."

It was SPU Foundation board member and Katos' attorney Nancy Cahill who urged them to "maximize where our money goes," says Sharleen. "She is a strong believer in and advocate for Christian higher education. Nancy caused us to consider who else beyond our kids could benefit most from a bequest? It was a new giving perspective for us. Why wouldn't we want to make a legacy gift to the University that has meant so much to our family?"

Are the Kato children on board with their parents' decision? "They feel a sense of ownership in the family endowment," says their mother. "Right now, they're busy getting established but will be in a better position to contribute more as time goes on."

Besides travel and family gatherings, the Katos are energized by their work and spending time with friends in their boat on Seattle's Elliott Bay.

"We're the steady Eddies," says Dean. "Both our fathers worked for Boeing and both families are from humble means. All that we've done, including the money we've earned, is not ours but God's." Sharleen agrees. "Our giving is an acknowledgement that what we have is an undeserved gift from the Lord."