Make
in SPU's Future

Living Life by Lifting Others: Bud and Patti Bylsma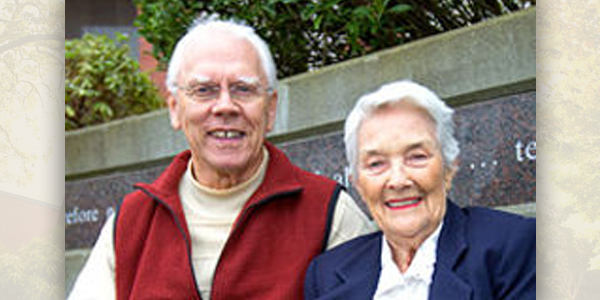 Bud Bylsma and his wife, Patti, have created charitable gift annuities that will support Seattle Pacific University after their lifetimes.
It was an offer Bud Bylsma could not refuse.
In 1948, Truman was in the White House and Bud played basketball for Seattle's Simpson Bible Institute (now California's Simpson University). Bud started the team, and in its second season the Knights played the Seattle Pacific College Falcons and lost. Their third year, they again played the Falcons and won. That's when the offer was made. "Come be a Falcon," Bud was told by the Falcon coach, "and your last two years of college will be tuition-free."
The deal was struck. Bud spent his junior and senior years at Seattle Pacific and became a member of the Falcons' legendary "Big Guns of '51" basketball team. His ball-handling skills and no-look passes amazed even his fellow players.
Academically, he was less certain. He switched majors three times-from history to philosophy, and finally, in his senior year, to physiology. And after graduation? He thought of taking a job overseas; maybe in medical missions.
But someone else had attended one of his Falcon basketball games. It was a local Young Life staff member. He invited Bud to a meeting of the Queen Anne High School Young Life club. Bud saw a hundred kids crowd into someone's living room, drawn there by the desire to socialize and explore the Christian faith. "I was blown away," he says.
Once graduated from SPC, Bud was invited by that same Young Life staffer to join him in Pennsylvania at Young Life Philadelphia. It was the beginning of a 30-year career with the youth organization that included regional directorships in Southern California, the Great Lakes and the Northwest.
A second influential person had attended Simpson when he was a student. Patti Barber became his wife and partner in ministry of 63 years. She says she liked Bud's ability to take command of a situation. "His sense of humor could get him through anything. He saw the big picture and arranged for the people to get it done."
"Patti was beautiful, charming, and a sharp thinker," Bud counters. "She became an expert's expert in English as a Second Language and made five trips to China and to three other countries as well, to teach university professors how to teach English."
After Young Life, Bud told Patti, "We've got 10-20 good years left. Let's get an education in the Third World." World Concern contacted Bud and asked him to go to Bangladesh to head up HEED (Health, Education and Economic Development), a relief and development consortium of 10 agencies, with more than 200 Muslims on staff. Bud replaced all foreign staff with native Bengalis in what is thought to be one of the largest turnovers in the history of Christian missions. Patti started an English school, one of the most highly regarded in the country, and has twice been asked to return and start others.
"A guiding question was always, 'How can we help the underclass own their own future?'" Bud says.
By 1989, following a number of other opportunities for service, they were back in the States. Bud founded Seattle's Northwest Leadership Foundation to encourage, strengthen and develop leadership for the spiritual and social renewal of the city. The size of the challenge sometimes had him asking, "What have I gotten myself into? Where do I start?" So he began by visiting more than 70 of Seattle's urban pastors and ministries to see what was being done and what needed doing. That led to15 years of cooperation with many of them-including Habitat for Humanity, World Vision and Promise Keepers-forging a variety of successful hands-on, problem-solving inner-city initiatives. The initiatives included: tutoring, justice, affordable housing, urban evangelism, youth ministries, job training, economic renewal and the establishment of minority student scholarships. SPU President Philip Eaton served on his board.
For seven years, Bud's NLF office was on the SPU campus, where he collaborated in the early efforts at greater ethnic diversity among the university's students, faculty and staff.
The Bylsmas have been as thoughtful and spirited about their charitable giving. In his work with nonprofits, Bud raised millions of dollars for others, but never drew a pension for himself. The couple lived frugally, their lives revolving around the work. "I never took a job where I knew the compensation going in," Bud says. "It was for the fun of helping others succeed."
That approach and the fact that the Bylsma children have done well in their own careers and are financially self-sufficient led to another big life question. How could Bud and Patti invest in the future of their favorite charities such as SPU and provide themselves with guaranteed payments for life?
Bud says one answer is charitable gift annuities. "We don't need the tax break, so we gave the funds to our children who do. They in turn established charitable gift annuities by giving the funds as a charitable donation in our name, received the tax deduction, and the principle after we're gone will go to SPU and the other charities we support."
A satisfying life deserves a satisfying finish, secure in the knowledge that their objectives will be carried on by the institutions and associations that have so fulfilled Bud's and Patti's busy lives.
Many Ways to Help
If you would like to learn more about charitable gift annuities and other ways you can include a planned gift to SPU in your estate plans, contact The Office of Endowments and Gift Planning at 206-281-2702 or giftplanning@spu.edu today. We would be happy to answer your questions, with no obligation.