Make
in SPU's Future

Endowment Supports Faculty Development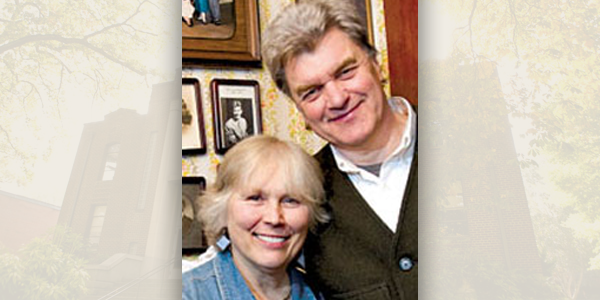 Rob Wall is an esteemed Seattle Pacific University professor of Scripture, an author, and a scholar. He speaks with clarity about the relevancy of the gospel to learning and to the world. He's equally eloquent about his personal life. Ask him how he met his wife, Carla, on the campus of Valparaiso University more than four decades ago. "I laid eyes on Carla before she saw me during freshman orientation," says Rob. "I knew she would be my wife. I'm just a person with keen intuition."
Carla Wall's take on his certitude? "I was just annoyed!" laughs the woman who teaches English
at King's Schools in north Seattle. Despite his early confidence, Rob waited until their junior year to ask Carla on a date-finally spurred on by a fraternity brother who threatened to "move in" on her if Rob didn't do something soon. After their August wedding in 1969, the young graduates went to Dallas, where Rob earned his master's degree and doctorate in theology at Dallas Theological Seminary. He pursued post-graduate studies on John Wesley at Southern Methodist University's Perkins School of Theology.
Now married for 39 years, the Walls are both tireless teachers, putting in long hours preparing for classes, teaching, and grading students' work. "There is little down time for us, even during vacations," says Rob. "We are both always busy tracking down new ideas or honing new skills to try out with our students." When they are able to squeeze in some time to take a walk around Green Lake, located near their home, work is never far from their minds.
Whatever the weather, Rob and Carla use the time not only to get some exercise but also to talk through creative lines of thought. Devoted to helping teens develop intellectually and learn the art of writing, Carla is responsible for the fact that scores of college-prepared writers graduate from her school each year.
Prior to her current teaching responsibilities, Carla poured her energy and creativity into raising children, five of them, born between 1974 and 1981. Each adult child-including Cara Wall-Scheffler, an assistant professor of biology at Seattle Pacific-is lovingly described by Rob and Carla for his or her unique talents and contributions. The Walls' second son, who died 31 years ago, is remembered with a touch of tender humor.
"Bart (Bartholomew) was an expensive child because he was always breaking something!" says Carla. "He threw things down the toilet, which is how my husband learned his plumbing skills. Bart poured liquid soap over the couch. He was a bundle of energy, that's for sure. Anything that moved, cars or trucks, he loved."
He was a child who skipped the crawling stage and went straight to walking ("No, actually running," recalls Carla) at a scant 8 months of age. He was so close to his big brother Zach, that if anyone asked Bart his name, he'd reply "Zach." His mother would go into their walk-in closet at home to regularly pray that her two young sons would grow up devoted to each other, like David and Jonathan in the Old Testament.
But in 1978, on Good Friday, Bart died. Just 2 years old, he was in the back seat of the family car when, unbeknownst to his mother, he unlatched his car seat and slipped to the floor to play. Bart's 4-year-old brother Zach was by his side when a car accident occurred only minutes from the family's home.
"There was a kind of sympathy extended to me at the time that I really rejected," remembers Carla. "It went something like this: God will teach me some kind of wonderful lesson. That was very difficult to hear."
Carla describes how she focused on a choice she and Rob had. "Many families have lost a child, but each situation is different. We had an opportunity to uniquely glorify God through Bart Wall's death-or not. This has really important meaning to me. Here is an opportunity for me and my family to point people to God."
As an act of worship and stewardship, the Wall family created a special endowment. Rob's parents, Robert and Elizabeth, established the Bartholomew Edwin Wall Memorial Faculty Development Endowment. This fund provides "Bart Grants" of $1,000 to $2,000 for faculty to attend conferences and to meet with other scholars for professional growth.
"These Bart Grants help faculty come back to the classroom enriched. It helps them to become more productive scholars and to be better teachers, to the glory of God," says Rob. The Walls believe in the value of this fund so much they've decided to leave a significant portion of their estate to it-the portion that would have been bequeathed to Bart, had he lived. Their surviving children and Rob's siblings will likely provide their own support to the fund.
Rob is committed to furthering Christian higher education at a place like SPU. He says it helps students think of themselves as able to make a contribution to engage the culture and change the world. "We're very good at teaching that at Seattle Pacific," says Rob, who serves as the Paul T. Walls Professor of Scripture and Wesleyan Studies. "I couldn't be more committed to what we do here. The quality is superior. The context, the culture, and the possibilities are so rich."