Make
in SPU's Future

The Bilderbacks: Spreading salt and light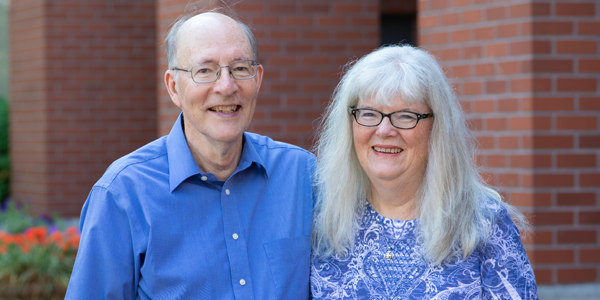 For Don Bilderback '69 and Becky Belcher Bilderback '68, longtime Free Methodists, Seattle Pacific University runs in their blood. The proof is in a photograph they have with 17 of their family members who attended Seattle Pacific across three generations.
One of those SPU graduates in the photo is their son, Doug Bilderback '96, who lives in Snohomish with his wife, Alisha Reed Bilderback '00, and their two sons. In 2012, wanting to be closer to family in their retirement years, Don and Becky sold their 200-year-old home (and bed and breakfast, where they hosted people from around the world) in Ithaca, New York, and moved to Seattle. For Don, after 37 years as a physicist at Cornell University, and for Becky, after 25 years working in the nonprofit sector furthering affordable housing initiatives, it was time to start a new chapter. So the Bilderbacks purchased an RV and traveled the country for several months before settling in Seattle.
Don and Becky would tell you that engaging in their local and global communities is an essential aspect of their retirement. Locally, they spend their time volunteering as board members for their condominium owners' association, participating in Operation Nightwatch, serving on the welcoming committee at First Free Methodist Church, and helping with FFMC's Samaritan's Sunday School Class. Globally, they have made three trips to Africa, serving once in Uganda and twice at Hope Africa University, a sister school of SPU in Burundi, where Don was born.
Suffice to say, after graduating from Seattle Pacific, the Bilderbacks have been busy spreading "salt and light" in the world, a valuable lesson they took to heart as students, and one they hope to inspire in students today. The Donald and Becky Bilderback Scholarship Endowment provides Free Methodist students that chance.
Don and Becky have also established a second endowment to help Seattle Pacific Free Methodist faculty afford housing closer to SPU. They remember how meaningful it was for them to get to know their professors in this informal setting, and hope that current students will get the same chance.
"We value the Christian education we received at SPU, and we want SPU students and faculty to benefit from the same opportunities that we received in the late 1960s," said Don.
Though the Bilderbacks emphasize they are not wealthy people, they want to be good stewards of what God has entrusted to them. By living frugally, investing wisely, and saving their money, they are contributing to their endowments via several avenues, one of which is through their individual retirement account (IRA).
With the help of two certified financial planners and an estate planning advisor, believed they had properly directed the IRA funds to SPU, but one day Becky read an article about retirement planning that mentioned the beneficiary designated on an IRA account takes precedence over a will. That is when they realized there was something wrong, despite all the good financial advice they have gotten over the years. Their son Doug, whom they had named a beneficiary on all their financial accounts, would in fact receive the IRA funds instead of Seattle Pacific, even though they had named SPU as the recipient of the funds in their will. "If you have a designated beneficiary," Don said, "those funds will never see your will."
While they want to be generous to their son, they also want part of their estate to go to charity. They are now fixing the oversight by updating the beneficiary designations of their qualified retirement funds to go only to SPU and specifically naming SPU as the recipient of certain cash funds in their will. They also hope to inspire others to check on their designated beneficiaries and wills, to be sure their funds are going to the right place.
Don recalls the book Rich Christians in an Age of Hunger by Ronald J. Sider, which has a particularly poignant message that he and Becky have lived by all these years: "Learn to live on a modest amount, and then when your income goes up, don't just spend it on yourself; spend it on the Lord's work and on helping others." Don and Becky have put those words into practice over a lifetime. Stewardship of their time and income has allowed them to give more because they have spent less. "Life is not just about us," said Don; "it's about our neighbors."