Make
in SPU's Future

The Hills: Fanning Flames of Faith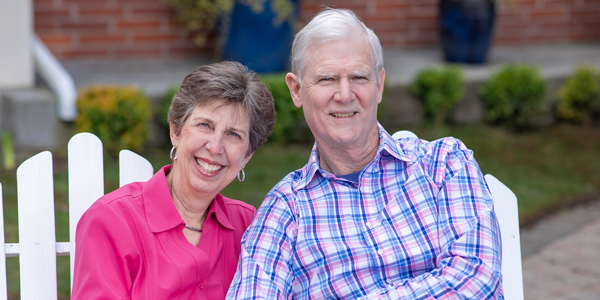 Ruth and Brad Hill: Fanning Flames of Faith

It's a good thing Ruth Terpsma Hill '72 wasn't pining for a car. Assuming a private college was financially prohibitive, that was the offer her parents made if she went to a state school near their Lynden, Washington, farm. Instead, Ruth set her sights on Jesus — and Seattle Pacific.
"Despite growing up in a Christian home, and becoming a Christian myself at age 13, I was very concerned about losing my faith in the college environment," she said. "I only applied to SPC, believing my small flame of faith would be nurtured there."
And it was, launching a series of yeses that impacted lives far beyond her own. Yes to following God. Yes to a date with that nice boy from English 101. And yes to a call to missions and a life of service and giving.
For that "nice boy," Brad Hill '72, the social tumult of the late '60s and early '70s tested his convictions. "I never lost my faith, but it felt like an unanchored buoy bashing against the rocks," he said. "The SPC environment helped me find my way through."
Their freshman-year, boy-meets-girl tale nearly wasn't. Snow canceled their Sadie Hawkins date. She agreed to go to the movies, but the call to finalize plans didn't come. Turns out Brad was scrambling to learn Ruth's last name so he could find her in the school directory. A professor they had in common came to the rescue.
"What drew me to Ruth is what still draws me," Brad said. "A deep faith, an adventuresome spirit, a love for Scripture, a funny laugh, a warm, welcoming personality, and the fact that she loves me!"
"I admired his faith, his integrity, his great humor, and he was soon my best friend — and still is," Ruth said.
While growing in love, they also grew in faith. They often prayed together in the Alexander Hall chapel. Brad proposed their junior year, and they married that summer. This year marks their 50th anniversary.
Brad grew up in the Evangelical Covenant Church, and at just 10 years old, he felt God's call to become a missionary in the Democratic Republic of Congo. Ruth experienced a pivotal surrender to Christ's leading her sophomore year of college, but didn't immediately embrace Brad's plans as her own.
"I needed to be sure God was calling me," she said. "I couldn't go simply as Brad's wife on his call. God graciously, abundantly, confirmed I was to go with him." Psychology degrees and teaching certification in hand, the Hills spent 19 years as missionaries in Congo, raising their two daughters there. They initially taught high school, but were drawn to evangelism and pastoral care. During furloughs, Brad pursued graduate studies, earning his master of divinity and doctor of missiology degrees.
They focused on pastoral training and church planting. Ruth led women's ministry and trained the wives of seminary students to read and write. They returned to the States in 1991.
Brad spent decades as a senior or interim pastor in churches throughout Washington and Illinois. They moved to Chicago for 12 years, where Ruth served as the denominational executive minister of women's ministries. During her tenure, she launched Advocacy for Victims of Abuse, Educate the Girls to provide schooling for Congolese girls, and Break the Chains, an antitrafficking initiative. She earned a master's in social justice and later worked for two antitrafficking nonprofits. Ruth was awarded an SPU Medallion Award in 2011 for her service and leadership.

They can't quite seem to retire — Brad is still an interim pastor and Ruth helps seniors downsize — but they find time to walk their dog, Brady, work in their Normandy Park, Washington, yard, volunteer at church and with hospice programs, and enjoy their five grandchildren.
Last year, the Hills updated their will to include a bequest to the University. "SPU has remained close to our hearts, and we are glad to contribute to the ongoing vision and ministry of the school," Brad said.
Ruth agreed: "If I had not gone to SPU during those all-important formative years, my life would certainly have taken a different path. SPU made it possible to attend a school my family could not afford, and I pray that our small gift will help other young people in the same situation. It just might lead to someone else receiving amazing assignments from God!"